I don't have a traditional NICU parenting story. Well I do, one from 13 ½ years ago when I had my twins, they were born at 34 weeks due to growth complications with Kesler. My son was in NICU for 3 weeks, my daughter came home with me at 4 days old. My son needed to have oxygen during feedings, and had difficulty with coordinating suck, swallow, breathing having a vasovagal response each time he was fed. At first he had a feeding tube while learning how to coordinate with feedings. My daughter, you wouldn't know was a NICU kiddo for 4 days. She conquered milestones with ease and didn't need age correction. My son needed age correction for milestones, PT, and OT as he was delayed in developed according to his corrected age.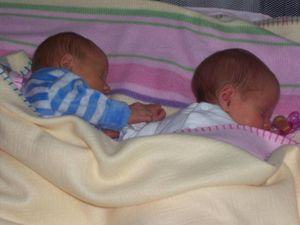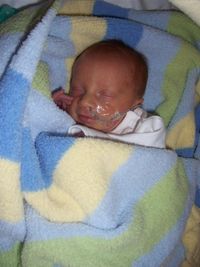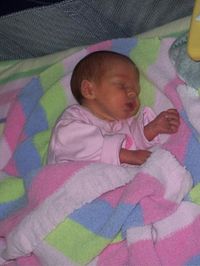 My bio NICU babies 13 ½ years ago 
The part that makes my NICU parenting unique is I am now a foster parent. I have taken 4 babies' home from NICU in the past 2 years. Many people think that we have the same flood of emotions with bringing a new baby home from NICU as we did when our twins came home from the NICU. However, those feelings are not the same as the ones we had when bringing our twins home from the hospital, especially after a 3-week NICU stay. Instead, walking into the hospital with the empty car seat comes with a different flood of emotions. When I walk in the door to my home for the first time is also different too. While our family anticipates and gets excited about a child that is about home, those are different than emotions of anticipating a child about to be born or coming home from the NICU. 
When we are called for an infant needing placement for whatever reason it might be, it leaves me with a sinking feeling each time as I prepare to pick them up and bring them home from the hospital for the first time. I feel like I am stealing something from their parent, a first experience. I feel a sense of loss for that parent and sadness for that parent whose child is coming home with me that day. I think about what they could be feeling, what are they wondering about, and how worried they must be and wondering if their child is going to be loved and cared for as if that child was the foster parents own child. I find it hard to find joy in bringing this small, vulnerable tiny human to my home. Instead of feeling joy, and thinking about having everything ready, instead I am formulating up a plan to call drs, getting the ball rolling to get early intervention services in place, calling the DME company to get the formula prescription rolling for delivery etc. Then, when I arrive home it's watching the child closely for feeding difficulties, which in many times the hospital will claim there are no issues (insert eye roll here when it is often blatantly obvious the first time a feed a child). Feeding difficulties are one of the biggest hurdles for the babies. Some of these can be issues with sucking alone, or coordination with one or all aspects of sucking and feeding from a bottle. We have a stock of bottles by every maker possible (that's what it seems like anyways) as we work through finding the one that is best for the kiddo to use and efficiently take a bottle without wasting energy that they need to use for growing. 
My husband and I care for medically fragile infants. These are the ones who are often exposed to drugs, no prenatal care, often the due date is unknown leaving hospital staff to guess at how many weeks early the baby is at the time of delivery. These babies who come home with us from NICU are the most vulnerable and fragile.  The medical needs vary from minor to significant. Often the biggest hurdle is feeding. Many of the babies lack the proper coordination for suck, swallow, breathing correctly. I know, it seems ironic that a NICU would send a baby home with these issues. I have brought babies home who have severe tongue tie, so obvious that how did the staff who has seen this child 24 hours a day until discharge miss? When I ask after the first feeding in the hospital if there are any feeding issues, I am always told no, despite it being obvious there are issues from the moment I fed the first bottle. I find it ironic how I see issues within the first 2 hours of being with this child. Some kiddos just have poor sucking and need facial support while they get stronger. Then, there are times where feeding issues are so significant that they require vigilant watching during feeding and aggressive feeding therapy. The ones that are the most severe are the ones at risk for aspiration, the ones whose heart rates climb to a tachycardia state and remain there until 30 minutes to 1 hour after feeding. Thankfully, there are products like the Owlet Monitor that helps us track their heart rates specifically during and after feedings, instead of guessing if their heart rate is through the roof and if it's starting to go down. 
Our first NICU foster child was placed with us in 2017, who was 3 weeks old at the time of discharge.  We started intervention services at 8 weeks old.  They are now ahead in many areas developmentally, and on track in the areas they were not ahead in developmentally. Today, you would not know that the child was born prematurely, and you would not know there was a mountain before them when first discharged from NICU. We also have a great relationship with their extended family and that they have become part of our family permanently. 
We've also had a set of twins we brought home from NICU in 2018 at 4 weeks old. They too started intervention services as soon as possible. We had a great relationship with their parents during the process. They successfully reunified as their parents worked hard to get their boys back. I am proud of the work their parents put in to bring them home. When they went home, the developmental delay gap was closing. 
This year we received our 4th NICU baby into care, bringing them home from the hospital at 6 days old, born 6 weeks early. We are in the early stages of this little one's case. Early Intervention has already come in and we have a plan for services to help this little one close the developmental delay gap that NICU babies often experience. We started making progress quickly with this little one, who has gain just shy of 2 pounds in the first 3 weeks of coming home with us! I have already met mom, and like every parent I meet for the first time I gave her a hug. A hug goes a long way with parents. I wanted her to know we truly care, and that her child is in good hands while she works on herself. 
One thing that we often hear is people calling my husband and myself saints, saviors, and anything else that places us on a pedestal. We don't see ourselves as being on a pedestal, or one of those labels. Being a foster parent isn't about self-gratification, or even validation. Many have stated that we are privileged to be foster parents, I don't find being a foster parent a privilege as being privileged is considered to have an advantage or special right.  Foster parents do not have any special rights, in fact we don't have many rights at all as foster parents, we only get rights when we adopt a child. I find being a foster parent a calling, a calling from God to care for the most vulnerable and needy. To care for not only the child, but the family as well through our actions and words. We go to every court hearing, so we know how to best work with the parents, we interact at visits as we are co-parenting. We make it clear that we are not there to judge the parent's actions from the past, present, or even the future. Our focus is their child and making the best of a situation for that child. Doing our best to be positive in a negative situation. We do our best to build a bridge for relationships with their extended family especially if that child does not reunify with their family. If God's plan for a child is permanency in our home, we maintain those relationships. My husband and I are not the "norm" for foster parents. Instead, we strive to make it the best experience possible for the families we become intertwined with during the journey.