I can picture it like it was yesterday. I was standing alongside the isolette, with my arms through the portholes. I remember the puff…puff…puff of the flow-inflating bag as I raced against the clock, bringing breath after breath to the tiny baby in front of me. I remember the rush of anxiety as the monitor alarmed and a flood of nurses arrived quickly at my side. We didn't give up, and neither did she. Slowly, her heart rate started rising, her oxygen saturations improving. I took a deep breath and looked up, spotting the baby's mother from across the room. She was pale, leaning forward with her hands resting on her knees. Tears streaked her face. And, in the next moment, she had stepped forward, pulling me into a fierce hug. I stared down at the preemie next to me, so proud of her strength. It's moments like these that solidified my choice to become a neonatal nurse practitioner.
Prematurity is a growing problem with nearly 10% of babies born before they are due. As I gained experience in my career and grew a deeper understanding of the true upheaval a NICU admission poses upon the family, I found myself compelled to take action. It's easy for us to cover up this gaping wound with a Band-Aid; sweep all the fear, guilt and uncertainty under the rug. After all, its just another day in the NICU…right? But, as a spirited NICU mom once told me, "It's hard to wear a brave face. The NICU is scary. It's ok to feel that way."
"Wires and machines –
they fill me with worry.
But, I wear a brave face
for this uncertain adventure."
                   Small But Mighty
This mentality is the driving force behind why I decided to write a NICU children's book. Small But Mighty serves as an inspirational book for mothers to read to their premature babies. It not only validates their feelings of fear and uncertainty, but celebrates the incredibly special bond shared between a mother and her preemie. NICU moms often report feeling helpless, as it can be weeks or months before they're able to participate in newborn care. Reading to their baby provides a sense of purpose, knowing that they are playing an important role in their preemie's long-term growth and development. As I reflect on my experience as a neonatal nurse practitioner, I cannot help but feel grateful for a career that has brought me both grief and incredible joy. I have discovered an excitement for prematurity awareness and a new understanding for the extraordinary journey parents undertake with a premature baby in the NICU. My hope is that Small But Mighty makes that journey just a little bit easier.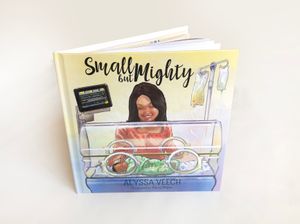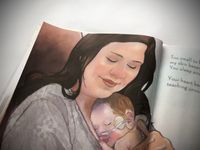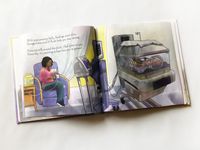 Written By:  Alyssa Veech
Assistant Professor at University at Buffalo, Doctor of Nursing Practice - Neonatal Intensive Care Unit and Silvie Bells Blog Contributor
Alyssa Veech is a Neonatal Nurse Practitioner from Buffalo, New York. After obtaining a degree in nursing, she began working as a critical care nurse in the Neonatal Intensive Care Unit. Her passion for preemies led her to become a Neonatal Nurse Practitioner, earning her doctoral degree from the University of Pittsburgh.  Alyssa lives with her husband, Peter, and their dog, Sophi.  She works as a Neonatal Nurse Practitioner at Sisters of Charity Hospital and is a faculty member at the University at Buffalo. In her spare time, Alyssa loves to travel and spend time with her husband and family.
Follow Alyssa on Facebook, CLICK HERE
Buy a copy of Small But Mighty NICU Book: CLICK HERE