After being cleared medically by my OB/GYN, Chris and I decided to take a baby moon in the form of a cruise to the Caribbean, May , 2014. It was three full months before baby Jackson was due, so we should have been good to have a relaxing time full of sunshine and floating in the ocean!  
Our cruise left Sunday afternoon, and after two days at sea and a port of call day in Jamaica, we were getting ready to spend our Thursday in grand Cayman on a snorkel tour and i was really looking forward to a pregnancy massage that evening back on the ship. After a low-key day in Jamaica, we headed to dinner and i started having strange cramps every once in a while that seemed to get a little more frequent as the night went on. After dinner we headed back to our room and decided to skip the evening show because i was starting to have more intense cramps and just didn't feel very well. All throughout the night the cramps intensified and grew closer and closer together, and by morning they were coming about every five minutes or so and were so intense they took my breath away. I think i knew they were contractions, and i remember being in the room in the very early hours of the morning willing us (Jackson and myself) to be ok, saying that we had to be ok. I had just made it to 6 months in my pregnancy, and there was no way we could have a baby this early. Especially not at home. People just don't have babies in other countries while on vacation, and it sure wasn't going to happen to us.  
The ship docked in grand Cayman very early that morning, so Chris and I headed down to the medical area on the ship and they took one look at me and immediately called the island hospital and requested an ambulance. From that moment, everything is a fast-paced blur. All you hear about on a cruise is 'don't get left behind!' when your ship leaves the port, and here we were in a foreign country having a medical emergency and all i could think about was how everything had to be ok so we could be back on the ship by 3pm, when it was set to depart the island. I can't describe to you the emotions i had and the terror i felt. The unknowns were impossible to comprehend and i felt like i was watching someone else's bad dream.  
Once we got to the hospital, a midwife introduced herself to me and immediately gave me an injection of steroids to mature the baby's lungs and some other medicine that i don't remember, maybe for the pain? A doctor came in at the same time as they were putting in a catheter (just last week i found out that women in labor usually get those put in once they've had their epidural - me, not so much...) And tried to put an IV in my hand, the worst kind of IV in the history of IV's. I must have been on pain medicine because i remember parts of the daytime but others are still fuzzy. I remember Chris having to leave to go to the ship to get some clothes, and to pack up our things so his brother could take them home to Oklahoma, but other than that, the next thing i recall is this British guy in shorts and a t-shirt and flip flops telling me he's a neonatologist and that if anything happened, he was there and he had experience in these situations. His last words on that first visit were 'hopefully i don't see you, but i probably will.' i swear he could have had a beer in his hand and sand on his feet and i wouldn't have noticed, because all i could think about was how there was no way this baby was coming out of me. Not then, not there, not happening.  
The next time the doctor checked me, i was still dilated and contracting, and all of a sudden i heard her say that he kicked her, and that she felt toes. I know anyone reading this knows basic female anatomy and can figure out what that meant without me going into detail - i will tell you though that the doctor's face at that moment was frozen in panic. It was about 7pm, and the call was made to dr. Flip flops and they started prepping me for a c-section.  
After that, they got me ready for surgery quickly and i remember seeing Chris in full scrubs at the end of the hall and thinking about how empty the hospital was at the time. I think i was in shock from that point on, because it's all a blur. All of the nurses in the operating room were Jamaican and i couldn't understand most of their accents, and all i could do was apologize to the nurse holding my hands during the epidural because i hadn't brushed my teeth that day and my breath must have been awful. Next thing i know, Chris is there telling me that the baby is out, and then he was gone. I felt all of the tugging and pulling that happens when they're putting you back together, and the entire time they were closing me up, the doctor, nurses, and i were talking and laughing and having conversations as if my insides weren't on display right below the sheet. Afterwards i was wheeled to a recovery area, and the epidural had completely worn off by the time they took the warming blankets off me. After that, i don't remember anything from that night. (chris later told me that the neonatologist was in the operating room in his flip flops - they do things a little differently in the islands, i guess!).  
I don't remember seeing Jackson. I didn't get to hear him take his first breaths and cry his first cries. Chris didn't get to cut his cord. We didn't get to hold hands and cry together as our first child was being born. We didn't get to see him wrapped up all tight and get to kiss him goodbye before the nurses wheeled him to the nursery. He didn't get wrapped up all tight and wheeled to the nursery. Our 25 week old baby was put in a gallon size ziploc bag to keep his too small body as warm as possible while a tube was put down his throat to make him breathe. I laid on the operating table completely alone not knowing if Jackson was even alive, or what was going to happen to us.  
The next day, Friday, Chris and Jackson were air-ambulanced to Broward health medical center in ft. Lauderdale, Florida. I've never seen Chris as conflicted as that Thursday night and Friday morning. He had to make the decision to either leave his wife alone post-surgery, or to leave his new baby in the hands of strangers to be taken to Florida, not knowing if he was going to survive. He made the right decision to go with the baby. Once the transport team arrived, i was able to get into a wheelchair and Chris took me to their version of a NICU to see our baby for the first time. I don't remember seeing him then, but we have a picture of his impossibly small hand holding my finger. The only thing i remember is being in shock that he was able to grab my finger, and then the room started to spin and go black so i had to return to my room. And then they were gone and i was alone. Helpless and cut open and in pain a million miles from home, with no baby, and no husband.  
That Saturday afternoon my mom flew in to Cayman to be with me, and by then i was walking by myself and had showered and removed my bandages. I credit the nurses for my incredibly fast recovery, because had i been in the US, i would have most likely spent a week in bed on pain medicine. I was discharged Sunday and flew to Florida with my mom Monday. I can't imagine the emotions she had running through her, and i will never be able to thank her enough for putting aside her fears and rushing to help me. My dad would arrive in Florida later to stay for a few days with us before having to return to work. Upon getting a phone call from Chris Thursday afternoon before Jackson was born, his mom and dad immediately got in the car and started driving the 24+ hours to south Florida to meet him and the baby at the hospital and would end up staying for the next month. There aren't words to describe our thanks to our families, especially for that first week.  
I know there are a lot of people who blame me for all of this happening. I know there are a lot of people that think i am plain stupid for going on vacation 3 months out from having a baby. I deal with the guilt every single day, and will always wonder if it was my fault that Jackson came so early. There was no infection. No high blood pressure. My doctor said i was fine to travel. I felt great and didn't do anything to induce labor. Hearing that it probably would have happened at home doesn't really make me feel better, but i have to choose to believe it because we can't change anything at this point. I will always wonder if people are judging and blaming me, and that's something i will have to learn to live with.  
I found strength within myself those first few days that i didn't know i had. I'm sure Chris did too. We learned in the first weeks just how many people love and care about us. We found out that despite this awful, awful situation, we are incredibly lucky to have such an amazing support system of friends and family, and will be thanking every single one of them until the end of our days. We are amazed every single day by the strength of our little boy, and can't wait to see what kind of person he becomes.  
He is our fighter. He is the love of our lives. He is our son. His name is Jackson Henry.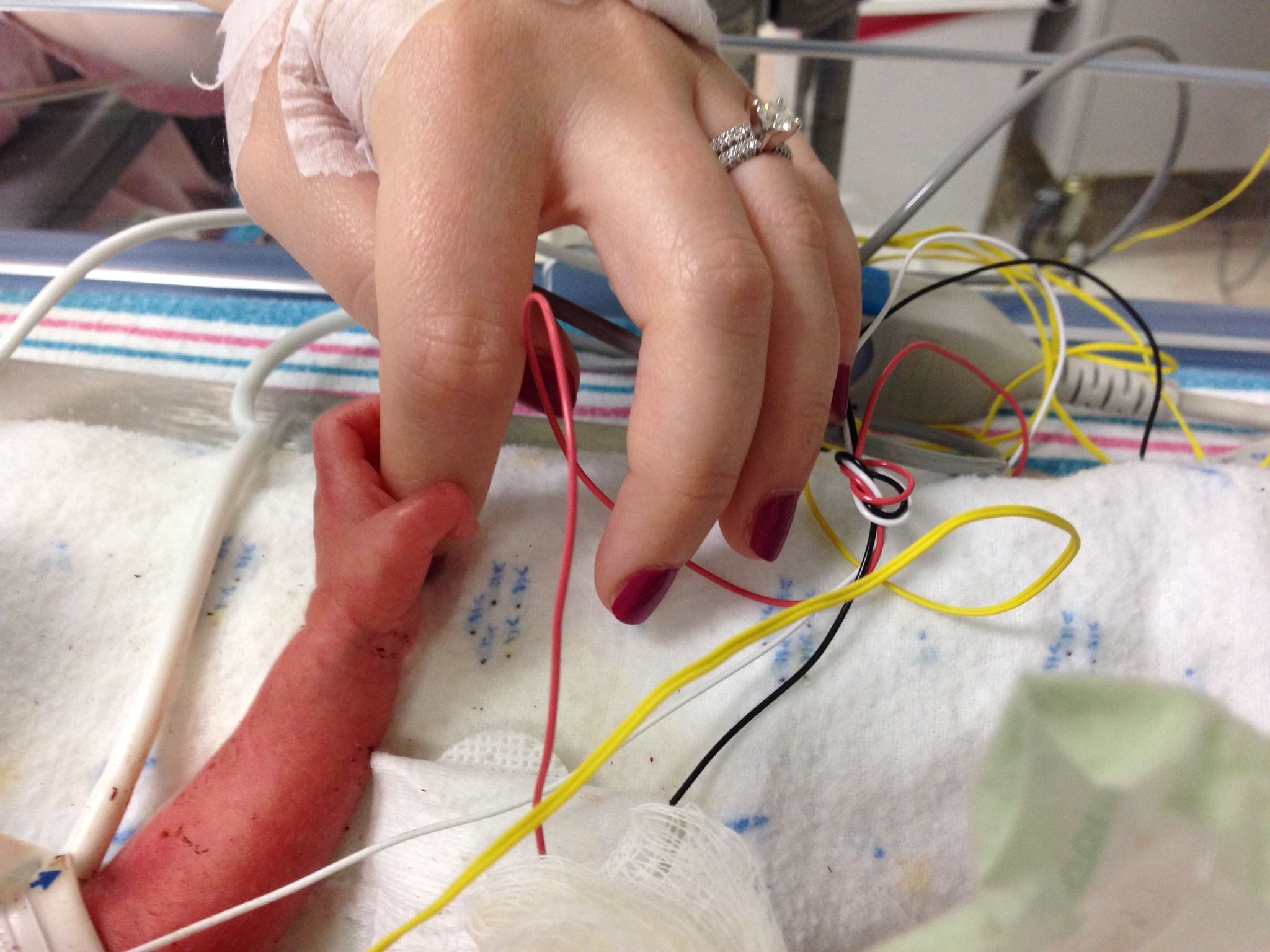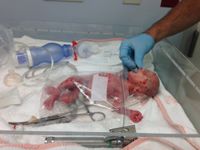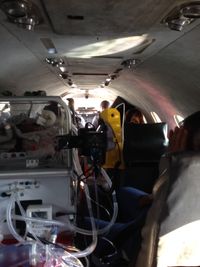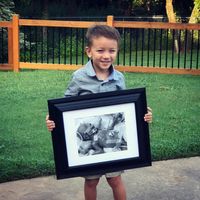 Written By:  Danielle Kissick
NICU Parent, Stay At Mother of Two NICU Miracles and Silvie Bells Blog Contributor