"Don't let anyone leave. I should be back around 10. 11 worst case." 
I sent this text to my best friend Justin on January 6th of 2018. My wife Maribeth and I had found out we were having our first child in April and Justin decided to throw me a man themed baby shower. "So your son doesn't only have clothes with giraffes and trains on them" as he put it. 
I left that afternoon heading to his house ready for a fun night. It was the first round of the NFL playoffs, our favorite hockey team the Carolina Hurricanes had a game, dozens of my friends were going to be at the house and ribs were smoking on the grill. Oliver, our son, had a different idea. 
Around 8 PM that night, in the middle of the party, Maribeth called me and I knew something was immediately wrong. You have to understand my wife; she is a text person. Not only that, she is not someone to call you when she knows you are doing something unless something is wrong. She let me know she was in pain – not normal pain, rather a pain she had never felt – and was scared. I told her to call the doctor and 10 minutes later, I was rushing to get home to take her to the hospital. 
We arrived at our local hospital, Rex, and after a few minutes with a doctor, were told the pain was actually contractions. Contractions?!? Let me check my phone. Yes, today is January 6th NOT April 5th, Oliver's due date. "This is probably just Braxton Hicks, but we have to prepare like the baby is coming" our doctor stated. "You are going to be transferred via ambulance to UNC hospital immediately. If your baby is coming, he will need to be in their NICU, not ours." 
We arrive at UNC in the middle of the night and the doctors there agreed with the Rex Doctor – this baby isn't coming. Around 6 AM, the doctors come back and check again – "the contractions haven't stopped, but they haven't worsened" they let us know. Strange, I thought. 
Around 7 AM I texted my mother in law to follow up with our conversation from the night before. They were on the way from their home town of a few hours away, but were in no hurry. After all, this is just Braxton Hicks. "No update. Still hanging out in the ER." 
Around 7:30, the doctors came back and this time, had a slightly different message. "You are now 5 CM. We can't stop this. This is happening today." Much like you have to know my wife to get how unusual it is for her to call me, you have to understand I deal with uncomfortable situations with humor. "Two questions," I ask. "By THIS you mean what?" "Your baby is being born," the doctor replies. "And by today you mean?" "Right now," the doctor clarifies. 
That moment was the scariest moment of my life. Up to that point, we had done nothing wrong and had no issues. It took us exactly one try to get pregnant, she was and still is extremely healthy, every doctor we had ever seen was not worried whatsoever but now all of the sudden out of nowhere, at 27 weeks gestation, this kid is coming? 
You also have to understand this about me; I'm a little bit of a planner. In fact just today, I texted Justin an itinerary for a trip we are taking two months from now. My head immediately went to how just how unprepared we were for Oliver. His nursery was about 75% painted, the drop cloth was still on the floor (even if it was completely painted it wouldn't matter, we had no furniture), we had no clothes, no bottles, no overnight bag packed, our birthing classes hadn't started, I had never held a baby for more than 15 seconds, I had never changed a diaper, multiple baby showers had been scheduled and paid for and most importantly, we weren't ready to be parents. 
We rushed to the NICU as soon as the birth was complete and then something I never expected to happen, happened. There were so many babies in there.  There's an entire population of people that I didn't know even existed that had a similar situation. When I was in the lobby holding back tears talking to my in-laws, a lady, about halfway through a crossword with her legs crossed looking like she was waiting for her hair appointment rather than sitting in a NICU lobby interjects in our conversation "27 weeks? He will be fine. Mine was 24." It was the most comforting piece of pain I can describe. 
When I would tell people my story, sometimes the response was "Oh my goodness" or "wow" or "I can't imagine" but more often than not, a very almost apathetic and non-concerned response was "oh I Was that way, he will be fine" or "you know my wife's sister has a friend whose child was born way before that" or my favorite "I'm 67, over 300 pounds and I was less than 2 pounds when I was born. Oliver has 67 years of technology and even more weight on his side. He will be an old fat-ass like me someday." 
76 days later, Oliver came home. Today, Oliver giggles at fart noises, wets the bed, rolls around, loves green beans and growls at the planes that fly over our house. He's completely healthy and a daily reminder to us that we can plan and do everything right, and sometimes things just happen. 
Perhaps the most beautiful moment in those 76 days came around the 50 day mark. By this time, we were NICU pros. We knew the nurses, we knew the process, we knew what Oliver had to do come home, we knew why he wasn't quite there, we knew when he would be there and knew he would be fine. 
A father, panicked, scared and confused is sitting in the lobby telling his story. His son was born at 31 weeks and he was questioning everything and trying to make sense of it. "31 weeks? He will be fine. Mine was 27," I said just like the lady with the crossword puzzle. This was my full circle moment. 
For anyone struggling with a baby in the NICU, I leave you with 5 pieces of advice;
  It's not your fault.
  You aren't alone.  
  Don't be afraid to ask for help.
  Pretty soon, it will all be a memory.
  And your baby will one day be a miracle inspiring others.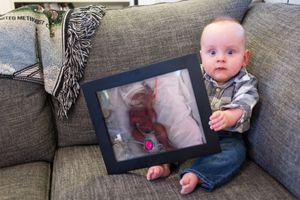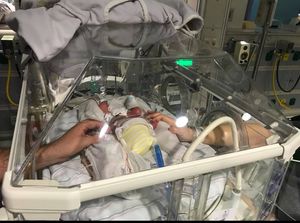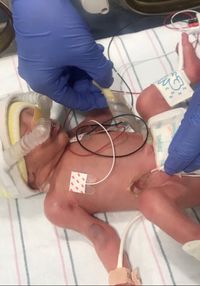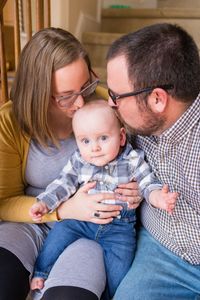 Written By:  Robert Leonard
NICU Parent and Silvie Bells Blog Contributor 
A normal, nothing wrong pregnancy in the matter of hours turned into a major medical situation. One day we are having a normal day and the next day we were parents well before we were supposed to be. This is Oliver's story - a story of a kid who decided he was on his own schedule and doing his own thing.