Every morning as I sip on my coffee and casually scroll through my newsfeed I always see new precious little babies who were born too soon and how tiny and fragile they are and my eyes fill with tears. I glance over at my once 2lb little girl who is playing happily and my heart just aches all the more for all the parents just beginning this journey. I wish I could bring each of you a coffee/tea/ hot chocolate and sit and cry with you, hug you and let you just FEEL in the presence of someone who "gets it."  It can be so lonely...and most everyone around you, even friends and family with the best intentions end up causing the most hurt because their well-meaning comments just isolate you more. It's only been a little over a year since our journey began outside the NICU and some days it feels like it could have been yesterday and other days it feels like it was just some weird dream. I just want you to know I see you. I hurt with you and I am praying for you to find strength and peace as you're in the midst of so much fear and unknown. You aren't alone.  Someday you will be on the other side of this. You will be sipping on your coffee some morning not long from now and you'll realize your journey and pain weren't for nothing...it meant something -even if it was just to give you eyes to see the world a little more clearly and see others the way they need to be seen. The NICU changes you, let it change you for the better. Let it give you the strength you didn't know you had, faith that could shake mountains and unwavering hope to get you through the hardest days. 
You matter...your sweet babies matter.  I love you all and pray for you constantly.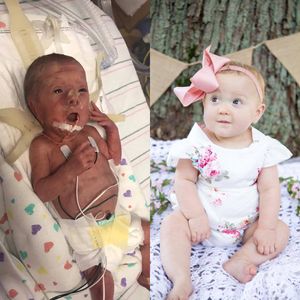 Written By: Krista England
NICU Parent, Stay At Home Mother of 5 and Silvie Bells Blog Contributor
Madelyn was born at 27 weeks 3 days after receiving 3 blood transfusions in utero due to being severely anemic. She was born via emergency c section after I had a full placental abruption due to the stress of the transfusions. She was born completely unresponsive and had to be resuscitated twice and intubated twice. I was in very bad shape after her birth and it took them 17 hours to stabilize me enough to even see her for the first time. She spent 9 weeks in the nicu and received a total of 8 blood transfusions. She is our miracle and we are thankful everyday for her life and how much she fought to be here.