The day I became a mother was the best day of my life. 
The day I became a mother was the worst day of my life. 
The day I became a mother I had a beautiful baby girl, who was immediately taken from me.  Silvana had severe complications at birth that lead to Persistent Pulmonary Hypertension.  Not only was she taken from my arms, she was taken from our hospital to a different hospital more equipped for how sick she was.  For the first 3 weeks of her life I could not hold her, I could not touch her; she was in a state of paralysis and could not have any stimuli. I could not hold her little hand, I could not sing the songs she had heard me sing to her while she was in my tummy. I could not be her mother in the way I had dreamed.  She was intubated, so I could not hear her voice when she cried, I could only see her face grow red and tears streak down her tiny face.  Not even a whimper, only the sounds she made were of the oscillator that gave her breaths, the drips of the meds keeping her alive the alarms that sounded when she started to fade.  Minutes passed, days passed, weeks passed and I slowly learned to become Silvana's mother in my own way. 
I could not cuddle her in my arms, but I could softly stroke her forehead. I could not nurse her, there were tube in her giving her nutrients, but I could pump my milk every 2 hours in hopes one day she could drink it.  I could not sing her lullabies, but I could whisper lightly above her ear.  I could not tuck her in at night, but I could spend my days at her crib side. I could make canopies out of NICU blankets and binder clips to hang over her crib to keep the fluorescent light out of her eyes;  I could learn to use the suction tube;  I could take her temperature before feeds; I could tape the NG tubes;  I could demand tests from doctors when I knew something wasn't quite right;  I could be her advocate, I could be her voice, I could be her mother. 
Silvana was in an "if she makes it" state for weeks and in those weeks the "mothers" in her life increased nearly every day… She had her NICU Nurses, who we're and still are her Fairy God Mothers.  She had her St. John's and Coral Sunset God Grammies who prayed for her every day.  She had her Pittsburgh God Mothers that flooded our mailbox with love.  The God Mothers that came to our home and cleaned it from top to bottom when we were living in NICU.   The God Mothers that dropped off lactation cookies, toys, clothes, cards and dinners.  One of her many God Mothers sent word to her friend, a nun in a Hawaiian convent, on what we thought could be Silvie's last day on Earth, this nun interruped dinner and said "Sisters!! Put down your forks, we must pray for Silvie!".  There were prayer circles from Florida to Pennsylvania, from Hawaii to China and from New York to Rome.  I know now there is no voice stronger, no voice louder, no voice more powerful than a mother's prayer. 
Seven weeks passed before we brought Silvana home and in those seven weeks I learned that being a mother is not what is in all those books I read when I was pregnant.  It's not what lines the shelves in Hallmark; it's not what's on tv or the mommy blogs.  Being a mother has a different definition for each mommy.  To me, it was feeling my heart explode when Silvie looked in my eyes for the first time.  It was seeing her face without cords and tubes and knowing there is nothing else more beautiful to me in the world.  It's waking up every day and living my life for her first and me second.  It's recognizing the sacrifices of my own mother and all of the mothers in my life. 
Silvana has been home for several months now and each day I am so grateful to be her mommy.  There were times when I didn't know if we would make it to Christmas, let alone Mother's Day, but here we are.  Today, on my first Mother's Day, I am so thankful to all of the God Mother's that prayed for Silvana and helped us along the way.  I am thankful to my Mother-In-Law (In-Love) who makes me feel like one of own and who has loved us near and far.  I am thankful to my own mother for the long hours in the hospital with us, the dinners, the housekeeping and her shoulder that I can always lean on.  
Happy Mother's Day to each of you, in your own mother way.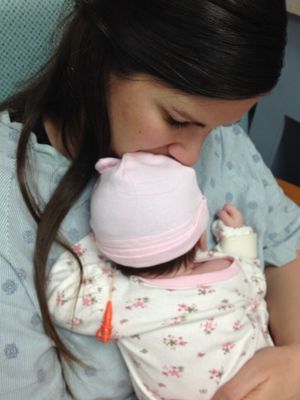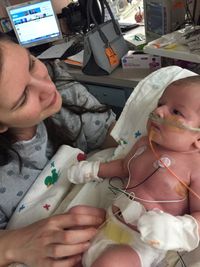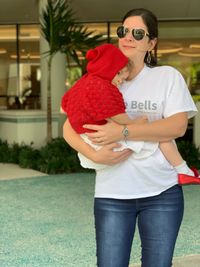 Written By:  Jennifer Oliver Smith
NICU Parent, Silvie Bells CEO and Silvie Bells Blog Contributor
December 14, 2015, Silvana was born at 41 weeks with severe Persistent Pulmonary Hypertension of the Newborn (PPHN).  She was given a 10% chance of survival.  I promised her that if she made it, I would pay it forward somehow.  Happily she graduated the NICU after 49 days, making a full recovery.  Today she is a happy, healthy 3 year old.  I founded Silive Bells to fulfill my promise to her by supporting other NICU families.